It's only a title, they'll say. The backside of that business card in your wallet doesn't mean that much. Job titles make our email footers seem more impressive, our desk chairs seem fancier, and give us credibility in those vaunted 'business-networking' scenarios, but in reality, job titles have a real impact on Employee Motivation and the employee's perception to the value they bring to an organization.
How you refer to yourself and your employees has a hidden importance, that has very little to do with the impression it gives others. Employee motivation can often be defined by setting accurate expectations, and the very first set are written on their business card and job description.
The problem is that job descriptions are incredibly difficult to produce, and they are becoming more difficult with each passing year. New technology, and multigenerational workforces are changing the needs of most workplaces. 1 Where we once preferred those who displayed mastery at specific tasks to fill specific roles, today's environment requires personnel who can adapt with the changing needs of the business. This means despite our love for routines, patterns, and our comfortable desk near the window, the great ones understand change is necessary for business to thrive. 2
So if modern businesses are looking for flexible employees, what's the best way to entice today's best and brightest, and keep your current superstars happy?
Identify the high level goals you are trying to achieve.
It may seem obvious but a horrifyingly high number of job descriptions lack the "why?" The word 'because' is one of the most persuasive words in the English language, and consistently posts higher conversion rates than copy without the word 'because'. 3 Identifying to employees at all levels of your company hierarchy why they are being asked to behave in a particular way is an extremely important prerequisite to employee motivation and an engaged workforce.
Psychologist Ellen Langer did a very simple study to figure out how exactly how the word 'because' affected people's behavior. 4 In her experiment she asked participants if she could cut in line at the Xerox machine using the following requests with different wording: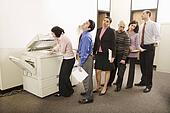 "Excuse me, I have five pages. May I use the Xerox machine?" – 60% said OK
"Excuse me, I have five pages. May I use the Xerox machine because I'm in a rush?" – 94% said OK
"Excuse me, I have five pages. May I use the Xerox machine because I have to make some copies?" – 93% said OK
What's fascinating here is that besides the obvious higher conversion rate when she includes 'because' in her request, her rate of success is nearly identical when she specifies having to make copies as her reason versus being in a rush (which is a seemingly more valid justification for cutting in line).
The take home point from this study is that giving your employees reasoning for their job descriptions isn't a matter of justifying your request, but instead identifying what you are hoping to achieve. Ellen Langer was hoping to make five copies and that was sufficient in justifying her request in the participant's eyes. Merely providing a reason for a policy immediately elevates the sense of purpose and will keep your workforce engaged.
Compelling titles can elevate less than compelling jobs.
It's difficult to deny that to some extent titles are arbitrary, but many employees view their title as a benchmark for where they fit within a company, and how they're performing. So in order for your titles to help with employee motivation, you want a title that breathes confidence into their outward appearance, and entices potential recruits to take the same position.
"Creative job titles are creeping into mainstream business at a slow but steady pace, led mostly by tech startups who have advocates, rock stars, trailblazers, dynamos, geeks and happiness professionals on their payrolls." - Libby Hoppe, Collaborate
If you saw a job description for a 'tech support employee' at a retail location how enticed would you be by that job posting? 5 The folks at Apple thought it sounded less than enticing which is why they refer to tech support team members at their retail locations as 'Apple Geniuses'. The world 'Genius' has an aura of prestige despite the fact anyone can become one. Customers are more trusting of 'Geniuses' when receiving advice, and when future employers see 'Genius' on resumes they are more impressed then they would have been by a non-creative title. As a result Apple has been flooded with applications for their tech support team, and they're able to hire top talent for the same position other companies struggle to fill.
To reiterate, be sure to present your existing employees with well-defined job descriptions, high level objectives, and creative titles to retain your best workers while enticing new ones as part of your employee engagement strategy